How Does Our Character Determine Our Destiny?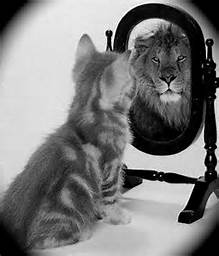 As we know by now, the world around us acts like a mirror. It constantly reflects back to us what we ourselves are, especially the aspects of our nature that so far have been hidden from our earthly self's view. And because we are magnetic beings, we attract into our lives people who are a reflection of what we ourselves are. As the law of Karma ensures that everything we send out into the world must find its way unerringly back to us, it is easy to see that improved behaviour and thinking patterns actively create better, i.e. easier Karma. That's why I say that our character influences and determines not only everyone's individual destiny, but also that of our whole race.

It is every human soul's birthright and duty towards itself and our Creator that we should develop our moral/spiritual fibre to its highest potential. Hand in hand with God and the Angels all of us are required to make their contribution towards shaping our world into an ever better, more beautiful and peaceful place. And that can only happen when each one of us gets to work and changes their character make-up. For anyone wishing to find a more intimate perception of their own strengths and weaknesses, as well as other people's, there just isn't any better tool than astrology. The new understanding of human nature it can provide us with assists us with growing ever more tolerant towards ourselves and others.

In my view, there is nothing quite like astrology for pointing us to our inner motivations and helping us to unearth undiscovered soul treasures in the form of gifts and talents that thus far have been neglected, in spite of the fact that they took many lifetimes to develop. In this one they are waiting to be re-discovered, worked with and polished to a high sheen, so they can help us to carry out the specific task that has been allocated to us by the Highest forces of Creation for the evolutionary progress of our race and world.

Like everything that is in our world and all worlds, knowledge is a gift from God. And like all things on this planet, it can either be used for good purpose or abused. As always, the choice is ours of how we use any kind of information we have access to. Words of warning about the use of our special gifts come to us from Anne Bronté, 1820-1849, in 'The Tenant of Wildfell Hall': 'All our talents increase in the using, and every faculty, both good and bad, strengthens by exercise. Therefore, if you choose to use the bad or those which tend to be considered evil, till they become your masters, and neglect the good at their expense till they dwindle away, you have only yourself to blame.'

So, beware! From the mass of information that is trying to flood and invade our consciousness, as aspiring healers and lightbringers to our world we have to pick and choose the raisins from the cake that is on offer. The rest needs to be discarded. And let's not fool ourselves. It depends upon the choices that people like you and I make whether our world continues to sink ever deeper into evil or whether it rises above it and the Earth becomes the place of our dreams. If we do not wish the former to happen, each has to make their contribution towards raising ourselves and our world onto ever higher levels of consciousness.

Never forget that today is Eternity and that everything in the whole of Creation consists of vibrations. Every letter in the alphabet has a certain vibration, so has every colour and note of music. Every one of our thoughts represents a vibration and those we are sending into our world at any given moment are building and shaping our future. If our dream world is one filled wisdom and truth, love and beauty, we need to firmly keep hold of this ideal and act accordingly in all our endeavours, because that's the kind of future we are at any moment helping to create. What we have to endure today is the result of the vibrations we sent out yesterday, i.e. in other lifetimes. And because today reflects yesterday and at the same time creates tomorrow, you can see for yourself that in fact it is Eternity.

There is no need to worry unnecessarily about the daily events of earthly life. It is better by far to concern ourselves with sending forth, from the very core of our being, the vibrations we now know are helpful for creating a more agreeable future for all. Love is the supreme law of the Universe that rules everything. And today is important only in so far as the right reactions to everything that comes our way can bring future growth, happiness and harmony into earthly life.

For those who have awakened to their true nature, the time has come for taking the future, their own and that of our whole world, into their hands. Each one of us will eventually be required to make their contribution towards creating a more peaceful and harmonious world. The human imagination is part of the creative processes of the Highest, which brings all things into being. As young Gods in the making and coo-creators of God, in our imagination let's create the kind of world we would love to return to, should another lifetime be required for our educational curriculum.
Recommended Reading:
• 'Dynamics Of Human Relationships And The Law Of Attraction'
• 'Projection'
• 'You Are Special'
* * *

The above is a chapter from 'The Astro Files Philosophy'.
If it has whetted your appetite to read more, please follow the link below:

'The Astro Files Philosophy'