The Great Year And The Ages Of Humankind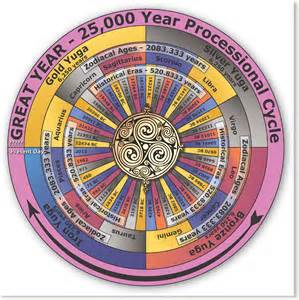 In the slowly moving progressions of the planets in particular, it is clearly visible that the purpose of all life is evolution and that everything in the whole of Creation expands and moves forwards and upwards, at a steady and orderly pace. To my mind, they are one of the most striking examples of this. Let me explain the technicalities involved, as briefly as possible. It takes the Earth nearly 25,000 years to complete one of the cycles, which moves it through the twelve signs of the zodiac. One of these cycles is known as a Great Year. Each sign the Earth passes through represents one Great Month, which lasts for rather more than 2,000 years. The unique character of each one of these months strongly influences all creatures and happenings on our planet.

The Great Months are also indicators of the Ages of Humankind. No-one can tell exactly when one of them ends and a new one begins. All we know is that by now we are penetrating ever deeper into the Age of Aquarius. And when you observe our world more closely, you can see for yourself how the energies of this sign are influencing everything in our world with steadily increasing strength. The remnants of the effects of the preceding age of Pisces are still with us. Although they are hard to shake off, they have to be dealt with by us, by every one of us individually and also collectively.
From our present evolutionary level it is recognisable that the great wisdom and love of our Creator brought us into being and then into this world. It has constantly accompanied us and guided us through all our experiences, so that we should learn from them. This learning process will always continue, but now our development has reached the point when we are ready for lessons of a more elevated nature. During previous lifetimes Divine direction came to us from the subconscious level, but this is now increasingly happening on the conscious level.
Trying to make my peace, I find it helpful to view everything against the backdrop of the full sweep of the history of our evolution, at least those parts we have access to. Some of my reflections and insights into this are included in the other parts of my writings that are available by now. With the help and the will of God, more will follow in due course.

The wisdom of hindsight reveals that two main lessons had always to be tackled by our race: a) the use and abuse of power and b) how to love wisely. Wars are but one of the evils that our world has to experience in the process of learning the lessons of power. There are a great many other ways of misusing it, and each one of them is teaching us and our world how to differentiate between good and evil. Yet, more important still is the glorious lesson that none of us, on this level of life, has any true power – it belongs to God alone. The best any human soul can do is aligning itself to God's power and love, until they begin to work their healing miracles through us – as demonstrated by the Jesus legend.
Recommended Viewing:
• Videos showing that the religions of our world have their origin in Sun worship ancient astrology:

Part 1
Part 2
Part 3
Recommended Reading:
• 'Could Religions Ever Change Anything?'
• 'White Magic And Black Magic'
* * *
This article is a chapter from 'War And Peace Between Nations.
If it has whetted your appetite to read more, please follow the link below:

'War And Peace Between Nations'