On The Forces Of Good And Evil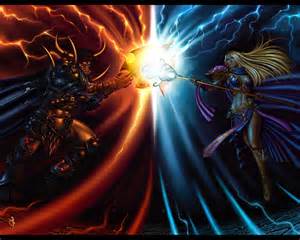 The following is the essence of three items from 'There shall be Light!' Stella Polaris Vol. 46:5: 'The seeds of the siblinghood with all life that knows nothing but love is in every one of you. Do not look on the outer level of life for love but within and become more loving yourself. You are a dynamic being who can only attract that which you are yourself. The world around you is a mirror of what is happening within. So, whenever you want to change something in your world, first take a deep and utterly honest look into the mirror of the self. Each one of you has to do this for themselves because you can only recognise yourself by your reflection.

'Never forget that each one of you has the best as well as the worst within. When you observe the ugly and painful things that are happening in your world, feelings of compassion and humility with all involved arise in you and you feel the need to pray for a purification of your own soul and that of your world to take all of you closer to God. The desire for loving and forgiving rather than hurting, criticising and resenting awaken in you. Please don't ever think: 'Oh, that's too much for me!' The only thing we ask of you is to simply keep on trying day by day. Every time you look into the mirror honestly and quietly affirm: 'I am God's child and I seek to obey the law of love, God's law.'
Do Not Attack Evil – Dissolve It!
'The whole of Creation contains two aspects, a negative one and its positive counterpart, that which is good. This part is all love and with the passing of time absorbs what is known as evil in your world into itself and creates more good from it. God is omnipotent, omniscient and omnipresent and humankind lives in Its heart and although many find it hard to accept that good and bad alike are within our Creator's power. Both aspects have their origin in the life of God and proceed from there.

'You need to know that that which is evil and ugly in your world and anywhere else is the unevolved and undeveloped part of life. All the powers that are in God are also in you. That is why when your Highest Self first starts building itself an earthly counterpart, it has to start at the lowest point, just the same as the Universal intelligence of the Almighty, whose spark you are, has to do when creating anything. The same applies to every field of human endeavour, be it the ability to conduct satisfying and rewarding personal relationships, or being successful professionally, artistically as well as spiritually. There are no shortcuts. In each case you have to start with the bottom step of the ladder, slowly and patiently working your way up to beauty and perfection.

'Everything that to this day leaves much to be desired in your world is part of humankind's lower earthly nature in its slowly evolving state. Evil is a consuming and destructive force. It's a fire that first tests and tries humankind's mettle to its utmost. Later on it is absorbed by the individual and collective development of the Christ nature. The Christ fire consumes everything that is no longer of any use and transforms it into something good. During the later stages of your development, when the thoughts, words and actions you in your ignorance of what is at stake once sent into the world return to you, the result tests and tries your whole being frequently to breaking point. The suffering endured pays the karmic debts that were incurred earlier.

'By the time you have recovered, you have become thoroughly familiar with the nature of suffering. Your higher nature is awakening from its slumber and your heart fills with love and compassion whenever you see someone in distress. You have come to admire the people who happily share their talents with anyone who is in need of them and the work they are doing. Like them you want to become a useful member of society and assist those who are suffering the way you once did. With this the healer's pathway is opening before you. As Elisabeth Kübler-Ross put it: 'The most beautiful people are those who have experienced defeat, suffering, struggle and loss and have found their way out of the depths. These people have an appreciation, a sensitivity and an understanding of life that fills them with compassion, gentleness and a deep loving concern. Such things do not just happen, they can only grow from within.'

'With the awakening of the good and higher aspects of your nature, the Christ Spirit, the process of absorbing the ugly and evil parts of your lower earthly self begins. As this happens in ever more of you, with the passing of time all evil will eventually vanish from your world. And that is the only way Christ can become the saviour and redeemer of you and ultimately your whole world. Many believe that by attacking evil they can do their share of getting rid of it. But when you have become aware of God's true nature and your own, you know that this is not the right course of action and that the best you can do to dissolve any kind of evil is by radiating the light of the Christ Star into the distressed people and areas of your world.

'Those who view evil from the perspective we are bringing here, will have no difficulties recognising the wise higher purpose it fulfils in earthly life to this day. We, your friends and helpers in the world of light, have walked this way before you. We understand your difficulties only too well. That's why we are volunteering to light the road every human soul must travel. We are trying to help you overcome the darkness of earthly life by showing how each one of you has to make their contribution towards absorbing it into the Christ light of love and compassion, wisdom and truth which, if only in seed form, is in every one of you. One of these days you may wish to join us and assist those you have left behind and who are still struggling in the darkness of earthly life.
Good Or White Magic
'Good or white magic is performed with the knowledge and assistance of the Angels of Light. This ritual is carried out by people who work from their heart centre and with the highest intentions. Because they love those around them, they do not try to impose their own will upon them. Seeking nothing for themselves, they work unselfishly for the good of all. Many groups who work with the White Light will spring up all over the Earth in the days to come. Working in them allies the server with the Forces of Light and requires a spirit that is dedicated to selfless service.

'Those who insist on working entirely for themselves, wishing to draw everything to themselves and imposing their will upon others, form an alliance with the negative forces. Awakened ones have no thoughts of themselves. Their only desire is to give love and light, to bless and raise all God's children to a Higher state of consciousness. They give without reservations, from their loving hearts. Such selfless giving distinguishes the white from the dark magic.'
Recommended Reading:
• 'The Prophet On Good And Evil'
• 'Good And Evil – The Heavenly Teaching Aids'
* * *
This article is a chapter from 'War And Peace Between Nations.
If it has whetted your appetite to read more, please follow the link below:

'War And Peace Between Nations'