Christ The Redeemer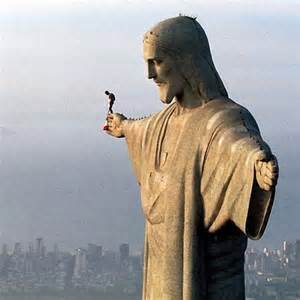 Just when I had finished editing and partly rewriting the sequence from 'Losing Faith' to 'Finding Renewed Faith', an e-mail from one of my friends landed in my inbox with a link for a very special video. It shows two men carrying out some breathtaking repair work on the statue of Christ The Redeemer in Rio de Janeiro, Brazil. It towers at the peak of the seven-hundred metres high Corcovado mountain in the Tijuca Forest National Park at an imposing height of thirty metres on a pedestal that adds another eight metres to the total height.

The statue was erected in honour of Jesus Christ and overlooks the city of Rio de Janeiro. Originally erected as a symbol of Brazilian Christianity, it has become an icon for the city and the whole of Brazil. It is made of reinforced concrete and soapstone and its construction was completed in 1931, two years before Hitler and the Nazis came to power in Germany on 30 January 1933. Please click the link below to participate in the repair work:
Longingly the Christ statue, with its mighty arms that have a span of twenty-eight metres, reaches out to embrace our whole world. In Earth terms 1931 was still a long time to go before we would be allowed to find out about God's true nature and our own. But now the spirit of the Universal Christ calls out to us with ever increasing force: 'Listen to Me, My people. Give ear to Me, My nation. By that I mean the whole of humankind. Take a good look at this statue. It is as much in need of repairing and overhauling as your understanding of the role of Jesus as the saviour and redeemer of you and your world.

'The time has come for taking Jesus off his cross and pedestal. You need to put him into the place where he truly belongs – the realm of myths and legends. Ever more of you are by now ready to stop perceiving Jesus as some kind of an idol or an icon, because you recognise that all along the story of the Master's life has been a symbol of your own God part or Christ nature. The figure of an almost naked corps of a man that is nailed to a cross represents humankind's earthly self.

'Emaciated from the stresses and strains of his tests and trials of Earth life, stripped of everything he once held dear in earthly life, especially the characteristics of his lower animalistic nature, the man has left his physical body behind to be consciously reunited with its Highest or God Self. His loincloth is an indication that gender becomes irrelevant when you too enter into the state the man is now in, as on the inner level – to which he has withdrawn – each one of you is no longer merely a man or a woman, you are androgynous, like Me. You then stand before your naked self, stripped of all pretences and false beliefs, ready to see yourself for who and what you really are and always have been. The final part of the story the man on the cross can tell is about the journey each one of you undertakes every time you leave your physical existence and body behind.

'All of these things are as true for the more advanced souls in your midst as they are for those who to this day continue to look up to Jesus, hoping and praying that one day he will appear as their saviour and redeemer. Awakened souls can see that these people are praying in vain, because they know that the only God who will ever be capable of saving and redeeming anyone is My spirit, when in the fullness of time it comes alive and is born in ever more human hearts.

'Each one of you without exception, My beloved children, does contain My spirit at least in seed form. It can only come alive when someone's energies have become sufficiently evolved. This is how in the end even the last and slowest soul will awaken to the fact that the only way the Christ Spirit can save and redeem them is when they themselves develop My characteristics. They too need to learn how to handle all their affairs, personal ones as well as those of their world, in keeping with their true nature. This is how each one of you has to do their share of establishing God's kingdom on the Earth, so that peace can come to your world quite naturally.

'I, the Universal Christ, am the true Christ. I am the great white light at the top of the spiritual mountain and all the belief systems your world has ever known, including the ones that are still with you, have been and will continue to be no more than pathways. Each one was originally meant to lead you, the aspirant, back into your true nature and the conscious awareness of your oneness with your Creator, the Great White Spirit, Father/Mother of all life. The Christ or God part of everybody's own nature is a vital part of Me, their only born Son, the Sun behind and beyond the Sun in the sky above you.

'I am of My Father/Mother in equal proportion. The will and power of the Father are in Me as much as the wisdom and love of the Mother, and the same is true for all of you. I, the Christ Spirit and living God within you, am the glorious hero and all-conquering spirit who has been waiting for aeons to teach each one of you, My lower earthly counterparts, to rise above all the ills that have ever troubled and beleaguered you and your whole world. I am the aspect of your nature that can save and redeem you and teach you how to uplift and transmute all darkness into light, sorrow into joy, tears into laughter, fears and anxieties into total faith and trust in God and the ultimate goodness of the life S/He has created for us. These things play a vital part in the healing of everybody's pain and suffering as well as that of your world.

'The more you mature into spiritual adulthood, the easier you will grasp that everything that ever happened to you, individually and collectively, has been your own creation. Forgiving yourself and your perpetrators is made easier when you understand that all of it was necessary because the events were lessons that would eventually help you to grow and evolve into the one you have now become. Do not condemn or blame yourself for anything and treat your own suffering – the same as everybody else's – with the compassion and love anyone deserves who is grappling with coming to terms with the spiritual purpose and meaning of Earth life.

'Any of the unpleasant and traumatic events in your lives can only happen because of the seeds you once sowed and the repercussions of what you yourself at one time or another did to those you came in contact with, either earlier in your present lifetime or in others way back in the past. No matter what anyone sends out into the world, the Universal law, My law of Karma, decrees that everything has to return to its source. And that is why any kind of suffering, without exception, can only come about because it serves as a teaching aid that shows those at the receiving end what it feels like to be the victim of the expressions of someone's lower nature.

'By forgiving yourself and anyone who hurt and wounded you, you set yourself and the other one free. Forgiveness alone can cut the emotional/spiritual bonds that once existed between two people. It shows those in charge of you on the highest level of life that you have understood your lesson, and that nothing of this nature will ever be required by you again. When you have understood and accepted the necessity for the difficult and traumatic things that to this day take place on the Earth plane, you have saved yourself from the necessity of further lessons of this nature.

'From there go forth with simple human kindness, love and compassion in your heart and redeem yourself by sharing your learning with all those who are in need of it. Living as a good example, show them new ways of loving and forgiving that they may wish to follow, so that they too can bring about their own saving and redemption and find healing and peace. And always bear in mind that in My eyes there is no such thing as failure. What your outer world likes to call a failure to Me is nothing but an opportunity for you, My beloved child, that takes you a step forward on the road to success and your reunion with Me.

'In both genders alike all aspects of your nature, the higher and lower as well as the inner woman in men and the inner man in women, need to be united and fully integrated. When they are working in peace and harmony together for the highest good of all, the same as they are in Me, lasting peace will come to your world. In this manner all power-seeking and warmongering will quite naturally come to its end, the way it has been written in the Great Father/Mother's plan since the beginning of life on the Earth.
'I bless you all, My beloved children.'
Recommended Reading:
• 'Away In A Manger'
• 'The Jesus Mysteries'
• 'The Universal Christ Speaks To Us And Our World'
* * *
This chapter was released on Tuesday, 6th November 2014, the day of the full Moon in Scorpio, the sign of birth and death, rebirth, renewal and regeneration. The time around the full Moon is always one for finding enlightenment that may come to us in a flash of inspiration that provides us with a deeper understanding of something that could have been puzzling us for a very long time.

The Scorpio full Moon takes place in Taurus, the Earth sign ruled by Venus. The sixth day of each month is ruled by Venus, the planet of harmony and peace that encourages us to look for compromises whenever we are in danger of getting stuck in any kind of situation. Tuesday is ruled by Jupiter, the planet responsible for the development of humankind's superconscious faculties. Could there ever have been a more auspicious day for bringing the wisdom of the Highest down to the Earth by presenting it to a wider audience through my worldwide circle of spiritual friends and family?
With love and light,
Aquarius
* * *
This article is a chapter from 'War And Peace Between Nations.
If it has whetted your appetite to read more, please follow the link below:

'War And Peace Between Nations'