Loving People Without Liking Them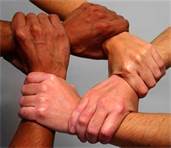 Doing The Right Things
People are unreasonable, illogical and self-centred.
You don't have to like them, but love them anyway!

They are all part of your own family.
They are part of you and you are part of them.
They may not yet know it, but you being wiser,
Love them anyway!

People may project their own ulterior motives onto you,
And accuse you of having them.
Rest safe in the knowledge that the Universe
Knows their hearts as well as yours.
Do good anyway!

If being successful means that we can only win
False friends and real enemies.
Succeed anyway!

The good we do today may be forgotten tomorrow.
Do it anyway!

What could have taken years of building up,
Can be destroyed overnight.
Build anyway!

People who are in need of our help,
May attack us whilst we are trying to help them.
Help anyway!

Give the world the best that is within you,
And should it be rejected, do not stop giving.
Give anyway!

The Universal Law of Karma ensures that what we send
Into the world, has to return to us.
Give of your best and only the best is sure to return!

Bishop Abel Muzorewa
African Spiritual and Political Leader
Edited by Aquarius
Among many other things, Aquarius is the sign of friendship, kinship and siblinghood with all life, and also of transmutation. If we wish to be released into the freedom of this age, the masterly conduct that is expected from us demands that we convert all our relationships, especially the most difficult ones, into bonds of friendship. However, it is inevitable that from time to time we come across people who, with the best will in the world, are impossible to like. How about them?

A long time ago, I came across the saying: 'It is possible to love people without liking them.' I have to admit that this sounded more than somewhat far-fetched to me then, but through astrology life itself has taught me that this can come about quite naturally. All I need to do is reflect on my interpretation of the Sun signs for the people I find difficult to like, never mind loving them. My heart opens with love to them when I reflect on the trials and tribulations they are likely to encounter during their experiencing, counter-acting and – hopefully – eventually overcoming the dark and negative aspects of their Sun signs. This is an essential part of the lessons every one of us has to cope with in each subsequent lifetime.

Furthermore, I find it helpful to know that underneath our skins we are all one. We are brothers and sisters on the same pathway, and sooner or later every one of us has to surmount similar hurdles on their evolutionary pathway, especially those that arise on the inner level of life. For as long as someone remains unaware of who they truly are, what the purpose of their earthly existence is and what is required from them, they simply cannot help acting in certain ways. I have no difficulties accepting this and whenever something hurtful happens to me, it comforts me to know that I must have needed that experience for some reason. If the event had not been trying to teach me something, I would not have been at its receiving end and it's up to me, to find out what it is trying to tell me.

No-one says that we have got to be Saints and in my view there is never any need to turn the other cheek. Knowledge of the Universal laws is helpful when it comes to enduring what our Karma brings to us and therefore cannot be avoided. It is easier to forgive when someone has caused me pain when I remind myself that quite likely I have been redeeming something I did to others earlier in my present lifetime or earlier ones, maybe even to the same person. This is because whatever we send out into our world, the law of Karma sees to it that it unerringly finds its way back to us. If we wish to be forgiven for our trespasses of the past, however long ago they may have taken place, it is necessary to first forgive ourselves for doing wrong and then also those who sinned against us.

Is it possible to continue loving the people with whom we have differences of opinions, especially if we do not like them? I believe it's childish to fall out with each other over something like that. When a situation has been duly considered from all angles, there is nothing wrong and everything right with coming to the conclusion that it is better to agree to disagree than to fall out with each other. On occasions like that, wise ones remind themselves that whenever disputes arise, two persons can be confronted with exactly the same things and perceive them in a totally different way.

Depending on one's point of view, all participants in any argument can be right and wrong, at the same time. That's the way it has to be for human beings, because of the different lessons we all have to participate in on the Earth plane. With a bit of goodwill any dispute can be settled peacefully, simply by accepting each others views, even though they differ. The level of someone's spiritual maturity reveals itself in nothing more clearly than in the ability and willingness – or otherwise – to agree to disagree with others in times of conflict.

With every person we encounter in our daily lives, we need to remind ourselves that there is a great deal more to everybody than that which appears of them on the surface of earthly life. We do well never to forget that each one of us is a living spirit and soul and that there is no way of telling who we or anyone else might have been in previous lifetimes and in what functions we encountered each other. It is advisable to develop the habit of looking beyond everyone's earthly personality into their spirit and soul because reincarnation means that each spirit, who has to develop its own soul in earthly life, is a Divine spark that once was sent forth from God. All of us continue to come into incarnation on the physical plane until we have become fully God-conscious, i.e. aware of God's true nature and our own. Once this has fully awakened in us, there will be no need for spending further lifetimes in earthly education.
Recommended Reading:
• 'Ruled By The Stars'
• 'My Interpretations Of The Sun Signs'
* * *
This article is a chapter from 'Healers And Healing'.
If it has whetted your appetite to read more, please follow the link below:

'Healers And Healing'