True Friends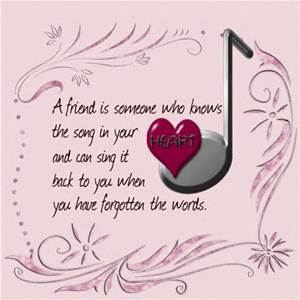 True friends are always there for us.
The only thing they want
Is that we should be ourselves.
Because they understand that we all have
Everything within, good and evil alike,
It feels safe with them
To reveal the very depths of our heart.

Such friends are like the shade of
A great tree in the noonday heat
Or a home port with our country's flag flying,
When we reach the end of a long journey.
In the trouble and strife of Earth life
They are impregnable citadels of refuge.

Whenever they reach for our hand,
They touch our hearts and help our souls to heal.
Their belief in us restores our faith
In the basic goodness of our existence.
The presence of the Divine shines through
Their kindness and compassion.
This restores our faith in human nature
And reassures us that it's a good Universe
In which we live, after all.

Aware of the higher purpose of Earth life
And conducting their lives by the Universal laws,
Friends of this calibre never stab us in the back or betray us.
They are spiritual oases in the desert of earthly existence,
Antidotes to despair, elixirs of hope
And tonics against depression.

They will be our friends in all Eternity.
From the world of light they will still be our friends,
Guiding and supporting us as best they can.
Responding to their friendship,
Unstintingly and without reluctance,
Is the most natural thing in the world.
* * *

The above is part of 'Words & Prayers For Healing Friendships'
If you would like some more support, please follow the link below:

'Words & Prayers For Friendship Healing'