Of Good And Evil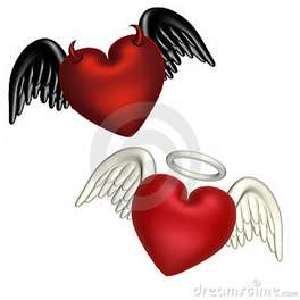 One of the elders of the city said: 'Speak to us of good and evil.'
And he – the prophet – replied:
'Of the good in you I can speak, but not of the evil.
For what is evil but the good within you
That is tortured by its own hunger and thirst
For the learning that will help you,
In the fullness of time,
To return into the conscious awareness
Of your true nature?
Because the good in you is hungry and
And your soul longs to return to its real home,
It sometimes seeks for food in dark caves
And may drink of dead waters, too.

You are good when you are at one with your Highest Self,
But when you are no longer consciously aware of it,
You are not evil. You are but a divided house,
Which does not have to be a den of thieves.
It is merely that the two parts of you,
Your Highest Self and its earthly counterpart,
Are still travelling in opposite directions.
This state of being can be likened
To a ship without rudder that
Is capable of wandering aimlessly among perilous isles.
Yet, somehow it does not sink to the bottom.
When you have studied evil sufficiently,
With the help and the will of God and the Angels,
The two parts of you will come together again
And brought into harmony,
So that in future they work for you,
Instead of against.

Fear not, if some of the souls in your world
Still seem to be guided away from their Highest Self
And ever deeper into the morass of physicality.
Trust that for them too, the turning point will come,
As it has done for you and all other wise ones in your world.
Humankind's evolution is a circle
That first moves you away from God,
That which is all good.
The farther you descend into matter,
The more you move downwards.
When you have reached a certain phase in your development,
You begin to move upwards and are then on your way
Into re-discovering your true nature,
That you are part of God and that God is part of you,
And that because of this
The core of your being has always remained good,
Through and through, all-loving and all-knowing,
Like your God Self
With whom you are now consciously
Being reunited and at one again.
For as long as your soul lessons require that
You move downwards, you are not evil.
Even thought your earthly self may still
Be learning to differentiate between good and evil,
Your innermost essence of your being
Remains good and of God.
You are good when you are spiritually awake
And that in thought, word and deed.
Yet, those who have not yet reached this point
Are not evil.
And if your tongue still staggers without purpose,
Know that stumbling speech also serves a wise higher purpose,
That of strengthening weak tongues.

You are good when you strive to give of yourself.
Yet, you are not evil whilst you are still seeking gain for yourself.
Those who are doing this are learning the lesson
Of being a root that clings to Mother Earth and sucks at her breast.
Like a tree your soul's needs
Vary according to the evolutionary phase you have reached.
That is why the fruit of a tree
Cannot say to its roots: 'Be like me,
Ripe and full and ever giving of my abundance.
For the fruit giving is as good a need
As the receiving is to the root.

You are good when you walk towards your goal
Firmly and with bold steps.
Yet, you are not evil whilst you are still approaching it with a limp.
But even those who limp are not going backwards,
For all life is evolution, moving ever forwards and upwards.
Let those who are strong and swift,
Make sure they do not pretend to limp too,
Out of misunderstood kindness for the lame.

You are good in countless ways,
And you are not evil when you are not good,
You are neither loitering nor sluggard,
You are merely still in the process
Of learning to discern between good and evil.
Have compassion too for those
Who already are moving with the speed of stags,
And believe that they can teach their swiftness to those
Who thus far only capable of moving like turtles.
Wise ones know that in God's great plan,
The turtle has as much its place as the stag.

Your goodness lies in your longing for being at one
With your Highest Self.
This longing is in all of you.
In some, it already is like a torrent that rushes to the sea,
With all its might,
It carries with it the secrets of the hillsides
And the songs of the forests.
The longing of others is still like a shallow stream
That lingers in angles and bends and loses itself.
Yet, it too finally reaches its destination.

Each does come to the end of their journey,
In their own sweet time.
That is why there is no need for those in whom
The longing is already very strong
To say to those in whom it is still weak:
'Why are you slow and halting?'
This is why wise ones who are truly good
Would never dream of asking the one who is naked:
'Where is your garment?'
Or another one who is homeless:
'What has befallen your home?'

From 'The Prophet' by Kahlil Gibran 1883-1931
Lebanese/American poet
Edited by Aquarius
* * *

The above is part of 'Words Of The Prophet – A Celebration Of Kahlil Gibran'
.If you would like some more of them, please follow the link below:

'Words Of The Prophet – A Celebration Of Kahlil Gibran'