Saturn And The Lords Of Karma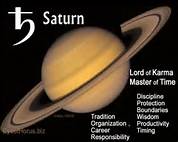 The poet W.H. Auden, when asked why he was migrating from the United Kingdom to the United States, said: 'I love my family, but I don't want to live with them!' Now, there is honesty for you and if we were all equally truthful with ourselves, many would express the same feelings. Let us not jump to conclusions though and assume that these people are hypocrites. Maybe they are the wise ones, especially if they are consciously and patiently putting up with the lessons their difficult relationships are teaching them. With sufficient awareness, ever more of us will be able to grasp the opportunities that are now on offer to help us resolve all of the Karmic ties that still exist within our families.
Auden's comment puts the finger straight onto humankind's Achilles heel and sorest spot. He undoubtedly knew that Karma in families is the worst or best stage – depending from which angle one views the situation – on which the great drama of life is constantly and relentlessly unfolding in all its glory and squalor, as the case may be. With its personality clashes, differences of opinion, power struggles and abuse of power present day family life holds its own when compared with the great Greek tragedies of the past. The main trouble with all of us is that – for a very long time blissfully unaware of this is what are doing – we are busily and happily creating Karma, good, bad and indifferent, some of the very best and some of the worst. Unfortunately, this is what far too many in our world are doing to this day.

Thus is comes about that, when we as children have to endure any kind of abuse. It does not come into our lives to make it difficult or unendurable for us, but is the outworking of the law of Karma. Things of this nature are not some kind of punishment either. Nothing could be further from the truth. Any type of traumatic incident is meant to jerk the human soul into waking up from its spiritual slumber, so that it may accept the responsibility for itself and its actions at last.

When handled in the right way, such events invariably represent opportunities for resolving our most difficult karmic relationships and their unresolved issues, which we have brought with us into this lifetime from previous ones. Distressing experiences always represent attempts at balancing our spiritual bankbook. The Universal Forces of justice hope that in this way one more file can be closed and the sufferer set free to be rewarded and promoted to life lessons of a more elevated nature.

Eventually every one of us who to this day is suffering on the Earth plane grows into spiritual adulthood and recognises the true purpose and meaning of humankind's earthly existence. When we become aware of the Universal law of cause and effect that it is at work throughout the whole of Creation, including human life, our soul's need for seeking healing stirs within. The Angels, who attend to all our needs, then guide us towards people who can help us to get started on our personal healing journey. Our inner doors begin to open as soon as we seriously get to work on resolving any outstanding issues and making peace with ourselves, with God and all life. This sets us free to express our true loving nature more fully. As a result, forgiveness begins to flow quite naturally from our heart and soul into the perpetrator's consciousness.

Just as important is the next step of finding forgiveness for ourselves for having created the need for the painful circumstances of our lives in the first place. These two types of pardon earn us the nod of approval from the Masters and Angels in charge of us and our world, known as the Lords of Karma. They alone have the power of wiping even the most traumatic incidents from the spiritual ledgers that are kept on the highest levels of life in the form of the Akashic Records. As soon as the Lords have removed the events from the ledger they no longer exist anywhere and the parties involved are released from the otherwise endless repetition of the same experiences. At last their spirits and souls are given the long yearned for freedom to move on to exploring the higher levels of consciousness.

Although none of them will ever be seen by earthly eyes, as far as humankind's existence and spiritual development is concerned, possibly the most important group that is incessantly working in the spiritual background of life are the Lords of Karma. They are the eagle-eyed and incorruptible keepers of every human soul's bankbook. This in turn is an essential part of the great spiritual ledger of all life. The Lords do not dwell on some far distant planet millions of light years away, but are part of us and therefore have no difficulties watching over us earthlings. With great love and care they monitor us and are aware of every one of our thoughts, words and actions on the Earth plane. Stern and undeviating Saturn is the astrological symbol of this aspect of the Great Mother's wisdom. It ensures that everything in our world balances in the end, the same as it has to in the rest of God's creation. And that is why spiritually no-one will ever get away with anything.

The restrictions imposed upon us by the wise ones in charge of us are necessary because of the precocious and inquisitive, initially rebellious and irresponsible, utterly selfish, cruel and thoughtless nature of the human spirit, when it first enters life on the Earth plane. How else could any one of us have come to grips with the dualities and polarities in the behaviour patterns and attitudes of our earthly and higher nature? This is how, over vast time spans stretching over thousands of Earth years, every human spirit slowly evolves from one extreme to the other, from the lowest earthly self to the highest Christed being.

As each aspect of our evolutionary cycle is as indispensable and valuable as any other, it is compulsory and cannot be by-passed by anyone. Therefore, there is no need to look down our noses on those who are still struggling with the lower end of the their earthly education. We are not better than they are, merely a bit older and more experienced, that's all. There is no need to condone their deeds, but we need to remind ourselves frequently that they are our younger siblings in the vast family of humankind. As such they have deserved to be treated with compassion and love. They need our tolerance and understanding to ease them into their own awakening, just as much as we once did when we were at their present development stage.

The Divine demands from all its children of the Earth that, as we grow into spiritual maturity and adulthood, we make a serious effort to master the art of self-discipline and self-restraint. For all souls each earthly lifetime is a precious gift that brings further opportunities to develop their sense of responsibility for themselves, their world and towards all lifeforms that dwell on the same plane of life. Time and again, each one of us is placed in this life so that eventually we should be able to bring forth, each from within the very core of their own being, the most cherished Christ qualities. Among them are wisdom and love, truth and honesty, absolute loyalty and integrity, tolerance and compassion.

When this long hidden aspect of our nature finally wakes up, it finds its deepest satisfaction and greatest fulfilment in serving the highest good and the greatest joy of all. Going in search of big bucks and self-glorification no longer fulfils us and makes us happy. This explains why Saturn, the stern disciplinarian, as the co-ruler of Aquarius in conjunction with Uranus, the liberator, guards the gates of the Aquarian Age. He – or rather the Lords of Karma – take care that no soul that thus far does not measure up is allowed to enter into the greater freedom of the new age.

There are many groups who, like the Lords, are patiently and quietly toiling behind the scenes of Earth life. Together they are constantly pushing forwards and upwards the unfoldment of this age and with it the development not merely of our race but of our whole world. The animal kingdom as much as the rest of Mother Nature, her trees, plants and flowers, her Sun, wind, clouds and rain receive their attention. The consciousness of our race for some time now has been focussing ever more on the interrelatedness of all life. A special relationship has always existed between humankind and its friends and helpers in the world of light, in spite of the fact that for such a long time they had to remain invisible to earthly eyes.

From the awareness of humankind's kinship and siblinghood with all life grows the understanding that it is impossible to utter even one unkind word against another without hurting ourselves. Therefore, whenever someone acts cruelly against another in thought, word or deed, all they can hope to achieve in the end is drawing the same kind of experience towards themselves. This is never meant to be some kind of vengeance or retribution, but is merely a result of the outworking of the Universal laws. Love is the law of life and all of life is one vast spiritual family in which each atom is inseparable from every other one. And this loving union forever has been and in all Eternity will be safely held in the wisdom, love and power of the Divine spirit of our true parents, the Great White Spirit, Father/Mother of all life. All glory, all honour and all praise be to Thee.
Recommended Reading:
• 'Message Of Hope From The Lords Of Karma'
• 'About Angels'
• 'Karma In Families'
* * *
The above is a chapter from 'Astrology As A Lifehelp In Relationship Healing'.
If it has whetted your appetite to read more, please follow the link below:

'Astrology As A Lifehelp In Relationship Healing'