Searching For Love And God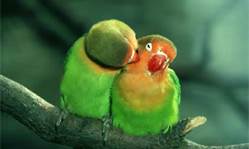 The law of life is love and as sparks of the Divine we are God's children. Thus we have come from love, our true nature is love and the goal of our earthly existence is to return into this awareness and conduct our lives in keeping with this knowledge. Giving and receiving love is one of every soul's most basic and urgent needs. And when the bud of the Christ nature of our innermost being at last starts to open up, we become aware of God's all-enfolding and penetrating love and light, in which – unbeknown to us for a long time – all life is constantly immersed.

Learning to love God's way, with simple human kindness and friendliness, thoughtfulness and consideration, patience and tolerance for those around us, is the main purpose of our existence. The more we practise this kind of loving in every one of our daily encounters, the closer our contact with the Great Father/Mother Creator's Universal love, light and beauty gets. This is how ultimately every human is going to do their share of establishing God's kingdom on the Earth. In this process the light of our own inner Divinity grows increasingly powerful and far reaching. Having learnt to accept and love every manifestation of life as being part of God's great plan of life, we view the events of our world with ever greater tenderness, kindness and tolerance towards all its participants.

Feelings of this nature rise from a deep inner well of understanding about the preciousness and uniqueness of all God's creatures. If, as a result, our heart fills with love but we feel short of someone special to give it to, if we but open our eyes we soon realise that our world is filled with needy people who are searching for love and seem to be unable to find it. Just about every human being belongs to this category and even the most advanced ones are frequently like small frightened children before God, too afraid to ask for help. Let's take heart and not be stingy with our love and give it freely to everything that shares our life with us. Any kind of love that is given is never wasted, especially not on those who do not yet know how to respond in the right manner.

Every small kindness rendered to any of God's creatures is valuable and counts spiritually. And each time we encounter someone in distress and our first reaction is to reach out and offer a helping hand, we are true to our real nature. We are then following the instinctive and intuitive reactions of our higher nature instead of the urge of our small lower earthly self to turn away. Through this our progress on the great wheel of fortune that is this life speeds up considerably.

At times nothing can be done except giving a distressed person a friendly smile, a few words of encouragement and comfort, a shoulder to cry on and/or a hug. When they are lifted above and helped out of their present situation, even if only in such small ways, the law of Karma sees to it that any kind of thoughtfulness one fine day in some form or another returns to the one who gave it. Hence the saying that bread cast onto the waters of life finds its way back to us. In practical terms this means that help is sure to come when we require it and everybody sometimes does. It may not come about through the people we once helped. In fact, it hardly ever does, but come it will and that often quite magically and then only seemingly out of the blue.

Our environment and the people in it act like a mirror that is constantly reflecting our own hidden inner characteristics back to us. We are dynamic beings and can only attract into our lives the qualities in others which we ourselves have already developed. Therefore, if we want more love in our life, we first have to become more loving ourselves. How to go about it? Anything is possible for those reach out for the helping hands of the Angels, the Shining Ones, Higher and Highest Beings – call them what you like, the meaning is always the same. They are always waiting for our call and ready to show the way, if we but ask.

They wish to teach us how to rise above all earthly conditions by peering beyond the ends of our noses and the clouds of the darkness of ignorance that surround us, so that we may learn to walk with our heads above the clouds and not in them. Our feet need to be firmly planted on the Earth to do our share of making our world a better and more peaceful place for all. Each one of us has the power to bring their own small piece of Heaven down to the Earth. No matter how insignificant our contribution may appear to us now, it does make a difference to the whole and helps our world to move a bit forwards on its own evolutionary spiral.

With the help and will of God and the Angels any adversary truly can be overcome, especially the worst one: our small earthly self's fears and anxieties. We are here for a purpose and no kind of suffering is ever for nothing. Every bit of it fulfils the purpose of teaching us something; fathoming out what that could be is our task. Yet, whenever we have reached the end of our tether, there is nothing wrong and everything right with falling on our knees, baring our hearts and souls and appealing to the mercy and tenderness of the Great Mother's infinite wisdom and love to rescue us.

Approaching the Divine aspects of life is best done with the frame of mind and the openness of heart of a small child. After all, that's what we are before the Great Father/Mother of all life. Besides, it takes a child's simplicity to grasp the higher esoteric meanings that are hidden behind the words that were once given to our world through various teaching methods. The wise ones in the world of light, our true home, who bring us these messages, have always communicated with us not with the surface words of the myths and legends they gave us from time to time, but through the metaphors and symbolisms that have always been hiding behind them. When their meanings have been unravelled, the Divine spirit can speak unhindered to the hearts and souls of those who are ready to understand.

God manifests Him/Herself everywhere and everything that exists in this world and all others has been created from love. To come to this conclusion is the end of the search for God and love which all of us have come into this life to pursue. All human beings eventually reach the evolutionary point when they can sense and recognise the light of the spirit in all their companions. Each time they are looking into a mirror, they then realise that they are actually looking at God. This reveals that they have reached the ultimate goal every human being is incessantly working towards in earthly life.

When we become aware that God, the creative forces of the Highest, is in everything and that all life is involved in a process of evolution, we realise that humankind has always been evolving away from the dark and evil side. The aspect of God we are striving to develop, the same as everything else in the whole of Creation, is that which is good, right and beautiful. By bringing forth from within our own being the best and the highest of our nature, we are helping these aspects of Mother Earth and all other life and lifeforms move forwards and upwards on the evolutionary spiral.

Because the Divine is not a static force but an ever evolving, expanding and increasing one, each one of us is equipped with the power to assist God with His/Her development. The Christ Spirit is the only born Son/Daughter of the Great Father/Mother of all life. It is all light and love and so is Its spark, which each one of us contains. This part of the Divine Trinity gradually absorbs everything that is ugly and sick, crude and evil into itself and transmutes it into something beautiful, sophisticated and good. Crooked corners it makes straight and that which is sick, it heals. Such is the process of evolution.
Recommended Reading:
• 'All Life Is Evolution'
• 'The Law Of Life Demands Evolution'
• 'Witnessing Evolution'
• 'Charles Darwin – Father Of The Evolutionary Theory'
* * *
The above is a chapter from 'Astrology As A Lifehelp In Relationship Healing'.
If it has whetted your appetite to read more, please follow the link below:

'Astrology As A Lifehelp In Relationship Healing'